I just wanted to give a shout out to Paul Coombes-Mr Inside Out. Both he & his secretary/admin have been AMAZING during the past couple of weeks. I have a VA deal in process that he did the inspection on & I wound up needing receipts, & some documents & they were so "on it" & pleasurable. I will definitely give him more biz on the "other side of this" Stay healthy--& TGIF ( as if that even means anything anymore…
Lisa B
5/14/20
---
I just wanted to thank Mr. Friend for his time and effort in doing my home inspection. He truly exemplified professionalism, being detail oriented and accuracy. Being a first time homeowner there have been several times throughout this process where I have felt lost or unsure of what something meant. However during the inspection Mr. Friend educated, explained and validated any and all questions I had. He didn't rush and didn't belabor any unnecessary issues. He was extremely helpful, prepared and efficient. I would highly recommend him to anyone and everyone who is looking to buy a home. Thanks again!
Meighan C
10/15/18
---
I thought that the service was spectacular. I have used Mr. Inside out (Dennis Friend) and his team on multiple home inspections. He is not only knowledgable and thorough, but he is an all around great guy. The home inspection report is detailed and extremely comprehensive. The inspection ended up saving me tens of thousands of dollars due to septic tank issue and asbestos. Then, after closing, I had a few issues come up. I reached out to Dennis and he referred me to a great engineer and contractors that were extremely helpful, reasonable and did the work on short notice! This was all well worth the cost of the inspection. I have already recommended Mr Inside Out to family and friends.
Anthony C
9/06/18
---
Mr, Dennis has never steered us wrong! We have used him three times and he never disappoints. He saved us twice from purchasing homes that would add more expense on top of the purchase price. For this we will always be greatful. I like the fact that a clipboard is provided so that you can follow along during the inspection and jot down questions or areas of concern. His no nonsense attitude and professionalism were key to us using him eveytime we bid on a home. The written report provided was precise and easy to understand. Mr. D. explained things clearly and took the time to answer all our questions no matter how minor. The last inspection gave us just what we were looking for, a place that we could call home without worry of spending hundreds of dollars in repairs. The areas in question were addressed by seller and we are pleased that everything worked out well! As they say, "third time is a charm." We thank you for your professionalism and integrity.
M & R Rivera
9/05/18
---
Clearly Dennis knows what he is doing. Grateful we chose to use this company. We will definitely refer to others.
C & B Bryant
6/28/17
---
I was referred by a friend LM and I appreciate your serious inspection and knowledge. Fantastic Inspector. Thank you for being so wonderful at your job. Sincerely D
D Ferris
6/28/17
---
Hudson County - I was referred through Angie'sList. Great service & was professional, friendly and knowledgeable. Dennis gave me terrific advice and guidance.
K Ryan
6/17/17
---
Dutchess County - Loved it saved me $232,500.00 he will be doing my next inspection
C Cann
7/12/17
---
Extremely helpful, knowledgeable & professional – Excellent Job!
M E Joy
7/3/17
---
We were buying a home in NJ and were referred by the seller. Dennis was honest and useful and really insideout!
K & S Khare
7/3/17
---
The inspector was very honest and upfront about all issues and what needs to be done to correct problems. Very happy with inspection.
A Olsen
7/10/17
---
Orange County - We are very pleased to have your company as our new inspectors. We appreciated your help and will continue to work with your guys.
N Robinson & R Wesley
7/10/17
---
Dennis was extremely thorough and courteous. He explained everything in full detail and answered all questions we had. We would definitely use him again and refer his business. He made our experience as first time buyers much better.
J & A De Luca
8/29/17
---
Sullivan County - Our inspectors were so friendly and helpful. They cut right to the chase, but weren't afraid to slow down and answer our questions. It's clear that these guys knew what they're doing and have our best interest in mind
L Blackett
9/16/17
---
Dutchess County – Dennis was remarkably courteous and thorough. Everything was explained to our satisfaction. He made sure that we followed him throughout and discussed everything as we went along. We are very grateful for his time and effort and would highly recommend Dennis and Mr. Inside Out.
F Fioribello
9/3/17
---
Fairfield County - We had a VA Loan so we needed to know particular things about the home to qualify. The inspector, Dennis was very thorough and informative as well as pleasant. Mr. Inside Out provided excellent service.
L & C Giordano
9/6/17
---
Fairfield County – My realtor referred me to Mr. Inside Out. This is my first house and Dennis took the time to explain everything to me as we walked through the house. He was fantastic.
K Goodgion
9/6/17
---
Orange County – Dennis was professional, educational and a pleasure. I am beyond impressed with Mr. Inside Out and will highly recommend him to anyone in need of an inspector. I learned so much! Thank you!
C Decker & M Engelsen
10/4/17
---
R Alonso
Dutchess County – I was referred by a good friend. They were honest and courteous. Great inspector
11/6/17
---
G & D Harris
New Haven County – This was our second inspection. Dennis once again did a great job, very detailed and informative.
11/6/17
---
Westchester County – I was referred by my realtor. The inspector was knowledgeable and educational. Very expressive on concerns with home. Explained in detail all needed improvements and recommendations.
M Juarez
11/18/17
---
Westchester County – Realtor reference – Very thorough and did a good job explaining options for getting issues resolved and not just the problems themselves.
A Kasses
11/18/17
---
Westchester County – Referral from a friend MH – Outstanding assessment and feedback throughout the entire process! I will definitely refer you to others.
W Krampel
11/3/17
---
Bergen County - I was recommended by my brother. They were very thorough, very nice, fun.
G Mariani
11/3/17
---
Dutchess County – This was our second inspection. Dennis did an excellent job! Very comforting and thorough. We will recommend very highly to all people we know
J Neal
11/11/17
---
Orange County – This was our third inspection. Dennis and crew are a pleasure to work with. Very technical and does a great job.
N Wolfe
11/11/17
---
Mr. Inside Out - Dennis is more than just a home inspector, he's more like an old friend you've known for 20 years who knows absolutely everything there is to know about a house; and explains everything you need to know to make an informed purchase like he is your Best Friend!

E & J Cunningham

3/6/15
---
Hello. I just wanted to write and say thank you again for the wonderful job Dennis did on my Newtown home inspection. I am not the most knowledgeable person when it comes to houses or equipment and Dennis did a great job explaining everything to me. Very knowledgeable and trustworthy! I will be sure to recommend Mr Inside Out for anyone I know who needs an inspection.Thank you again.
Mike
2/15/14
---
Mr. Inside Out was referred to me by my realtor, and I'm so very glad they were. I was unsure of who to go with, but they came very highly recommended. The inspector, Dennis Friend, and partner, showed up early and ready to inspect. He was very friendly and knowledgeable and very to the point which is what I appreciated. It was a nerve wracking experience as a first time home buyer, and he made me feel at ease and explained everything thoroughly and in a way that I would understand. He provided me a clipboard to jot notes down on as we went, for me and for questions for him when the inspection was rapped up. At the end of the walk through we sat down together, he filled out all the appropriate paperwork while explaining every detail to me, and then provided me with a binder full of this information to keep; which I have to say without a doubt helped make my decision easier about going ahead with the purchase of this home.
After doing price research prior to choosing this company, Mr. Inside and Out was by far the least expensive one in the area, which also made me happy about the choice that I made. It's nice getting 100% of the effort and experience without paying over the top.
I would definitely recommend Dennis and Mr. Inside and Out, to anyone I come across who needs a home inspection done in the areas they provide.

Rachel
Harwinton, CT
06791
February 2014
---
My experience with Mr. Inside Out, from the time my home inspection was scheduled, through the inspection itself was superb. The staff is extremely courteous, take their jobs seriously, and pay attention to detail. The inspectors arrived at our potential home, long before the scheduled time, and virtually turned the house inside out, looking out for every potential safety hazard. They found errors that we would never have identified. The advice they offered us was invaluable, and best of all, they listened and answered all our questions to our utmost satisfaction. Over all I would say Mr. Inside Out did a remarkable job at a very reasonable price. We actually got far more than we paid for. I strongly recommend Mr. Inside Out to any one who needs their home inspected. You can't go wrong with them.

Felicia A
Connecticut
1/18/14
---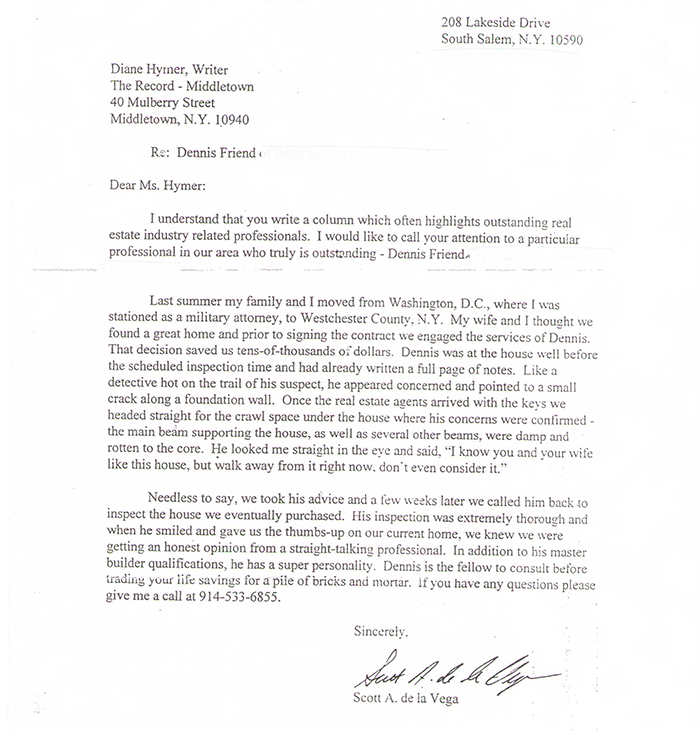 ---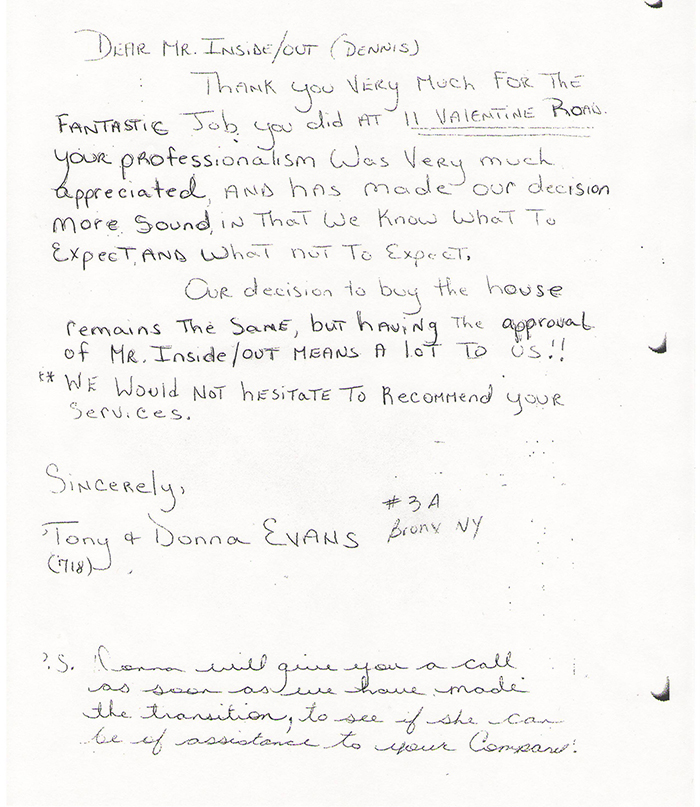 ---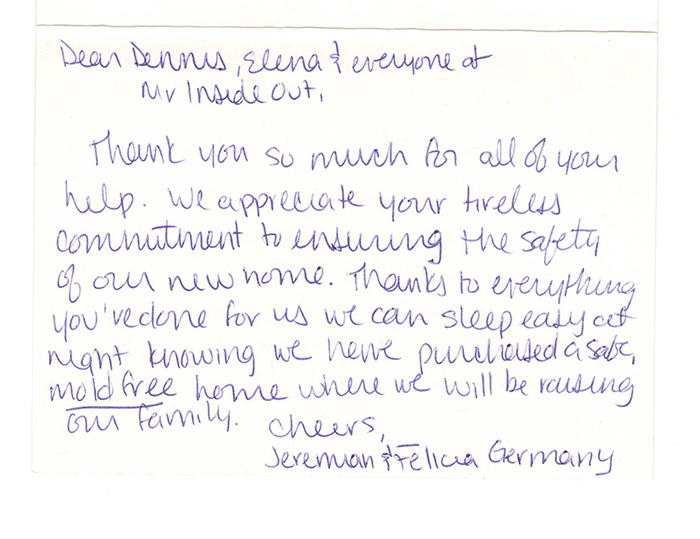 ---